Casting Techniques at NOUSAKU
NOUSAKU uses a selection of materials and casting techniques including raw, self-hardening, lost wax, and original silicon casting method to establish a high-mix, low-volume production system. Working on the foundations of advanced techniques developed through history, we also employ new techniques such as NC processing. By achieving a balance between the machine and precision handwork of our craftsmen, we have been able to develop a flexible production system. All-inclusive production from planning to manufacturing ensures a stable supply of high-quality products.
*Green sand casting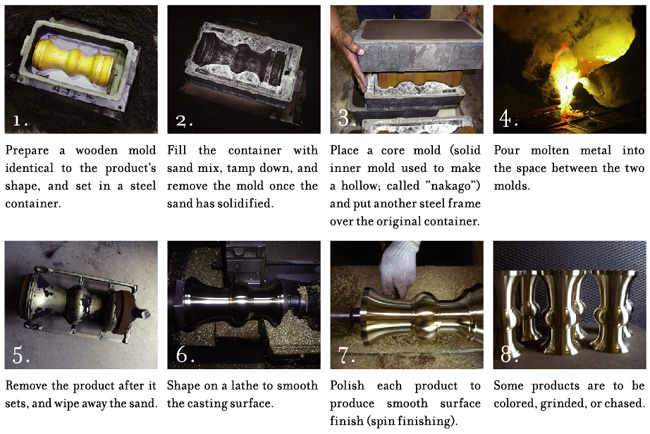 Green sand  casting is a technique for casting by pressing out the intended form using mold sand mixed with a small amount of water and clay. It enables a mold to be created quickly, making it cost effective and appropriate for mass production. While the two-piece mold limits the product shape into something that can be "sandwiched," the use of a middle mold can produce hollow products such as flower vases and Buddhist altar fittings. Unlike other casting methods, green sand casting does not fire or add chemical treatments to the mold before casting, which is why it is called "raw casting (生-型)" in Japanese.
NOUSAKU had been using this method since its beginning, and still, is our main method of casting. Our wind bells, flower vases, tin plates, and several sake wares are made by this method.
*Features of casting methods at NOUSAKU
-Green Sand  Casting: Typical and traditionalcasting method / Appropriate for making in large quantities
-Silicon Casting: Appropriate for expressing complex and precise details. Used only for casting tin products such as our flexible wares, chop stick rests, several sake cups and small plates.
-Self-hardening Casting: Mainly used for making large products. Generally used for casting furniture parts, chandeliers, luminaires, objets.
-Lost-wax Casting: Appropriate for expressing complex and precise details
Materials at NOUSAKU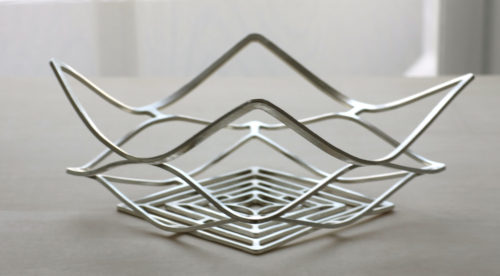 Known as the most expensive metal after gold and silver, tin is very malleable and bendable.
It is normally mixed with other metals in products to increase its hardness, but NOUSAKU uses 100 % tin. It may be a counterintuitive concept but this idea makes us accomplish to make unique products which can be bent and used.
Though tin resembles silver in its whiteness, it does not rust nor tarnish easily. Also, pure tin is significantly antibacterial and safe for serving foods, therefore suitable material for tableware or accessories. In Japan, it has been said that the tin removes bitterness of Japanese sake as well as other beverages.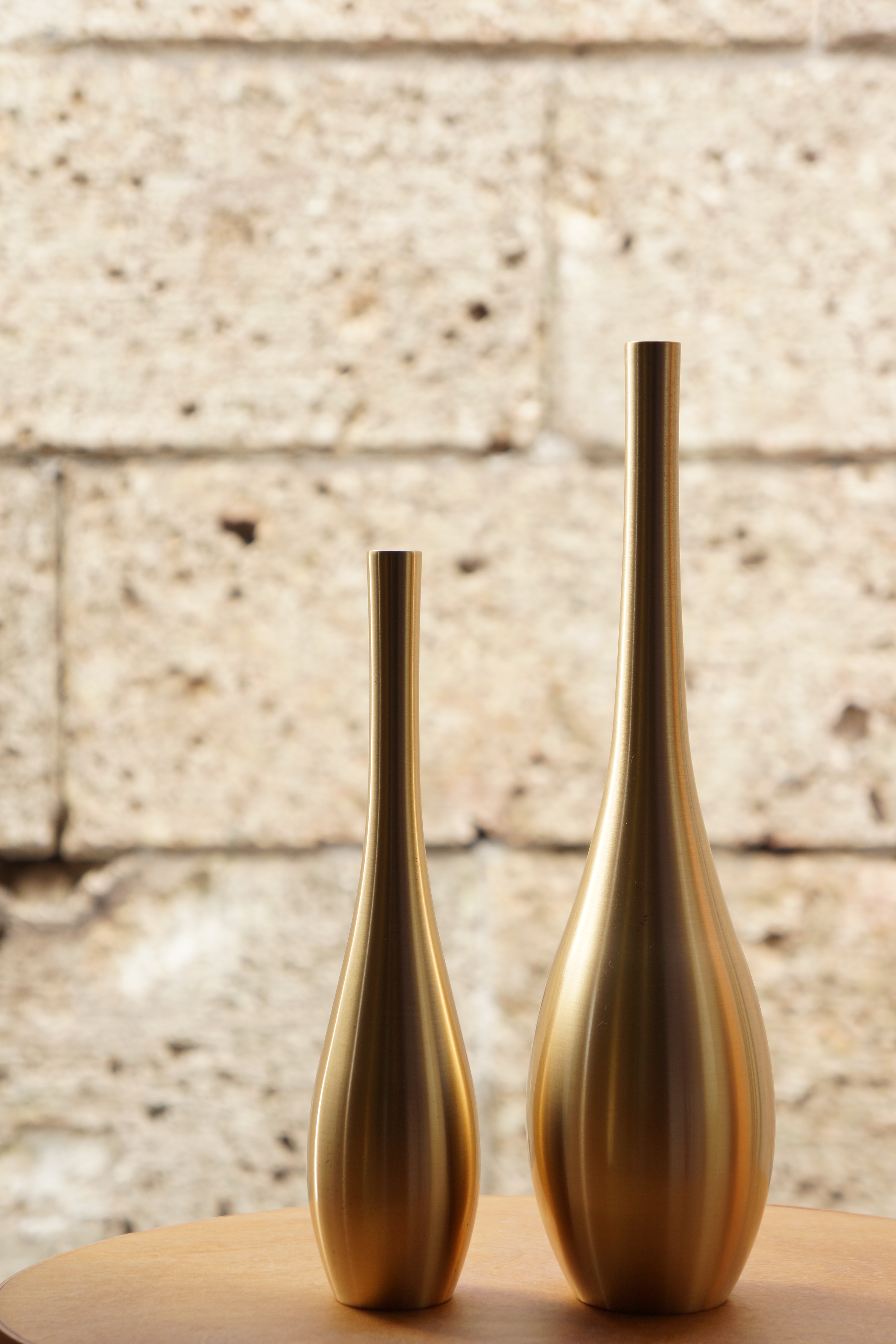 Brass, a metallic alloy made of copper and zinc, has been used for accessories, interior decorations and architectural hardware from ancient times. Brass makes clear and beautiful sound and therefore also used for musical instruments such as horns and trumpets.
Based on the skilled technique to make Buddhist ritual objects and Japanese tea sets, NOUSAKU creates various interior objects such as bells, candle holders, incense stands and wind chimes. Our brass items are hand-finished by experienced craftsmen, which accentuates material beauty and fineness.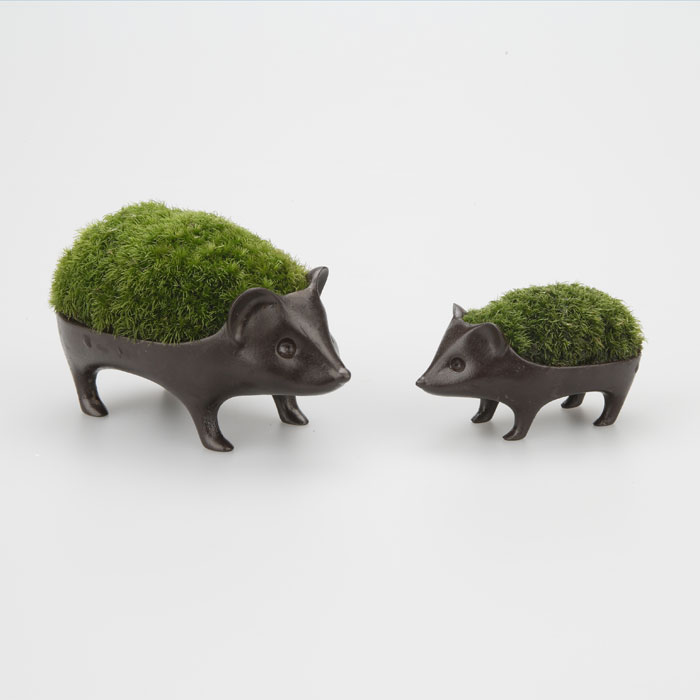 Bronze is an alloy of copper and tin. For the hardness, it was used for tools, weapons, armor, and building materials in ancient time before discovery of iron. It also has been widely used for coins, mirrors, vessels and boat and ship fittings for the anti-corrosiveness.
NOUSAKU employs bronze to produce containers for moss Bonsai as well as made-to-order construction metal and art sculptures for the property.