NOUSAKU took part in Maison et Objet 2011 at Paris Nord Villepinte from January 21st to 25th.
As we had showed-up in 3 halls, it was a great pleasure to have a lot of visitors at each of our booth.
We deeply appreciate all of you visiting us during the show.
We hope that you enjoyed the show as much as we did.
a.

Booth # A51 in Hall 3 "la table" as NOUSAKU
We exhibited our latest items, along with our basic items such as table wares made of 100% pure tin,brass wind bells, home accessories, etc.
We are sure that there must had been something which attracted each one of your attention.






b.

Booth # J1-J2 in Hall 8 "now!"
The new series of NOUSAKU were on exhibit for the very first time. Designed by Takumi Shimamura, an industrial/product designer, new products added new impressions to NOUSAKU.






c.

Booth # I6-J5 in Hall 6
The products on exhibit were created in collaboration with Makoto Koizumi, Japan's leading designer.
His field of activity ranges from everyday design - including chopsticks, crockery and furniture - to architecture.
We hope you enjoyed simple yet unique designs of Makoto Koizumi delivered by NOUSAKU.
NOUSAKU booth in Hall 3 was designed by him as well.






"NOUSAKU Dinner Fair"

A special limited-term collaboration of NOUSAKU and Sous les Cerisiers, "NOUSAKU Dinner Fair" was held in Paris, France from January 18th to 29th and from March 8th to 22nd, 2011.
Sakura Franck, an owner chef of Sous les Cerisiers, offered an artistic and delicious dinner course using NOUSAKU table wares.
We were pleased to welcome journalists, bloggers and editors on the night of press event; a rare opportunity to provide an unique dinner course, a fusion of French and Japanese.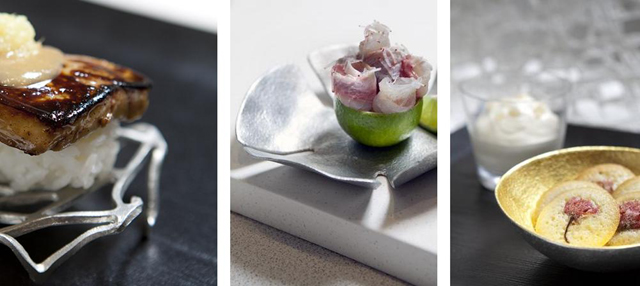 From left
Sushi with a fried foie gras (KAGO – Rose)
Sea bream sashimi (Tincry – Four leaves)
Financiers with cherry blossoms (Kuzushi – Tare [gold])



NOUSAKU items used in the dinner fair @ Sous les Cerisiers will be available at gallery shop "Jugetsudo Paris" from March 8th (Tue) to 22nd (Tue), 2011.
Following items are available at Jugetsudo Paris;
>>> Campaign has finished. Please directly contact NOUSAKU regarding orders and products.

Sake/Sauce Pitcher – L [gold]
Sake Cup – KIKI - Ⅰ[gold]
Bamboo Sake Pitcher
Tincry – Four Leaves – M
Sheep - brass
Kuzushi – Tare – L / S [gold]
KAGO – Rose
KAGO – Square – M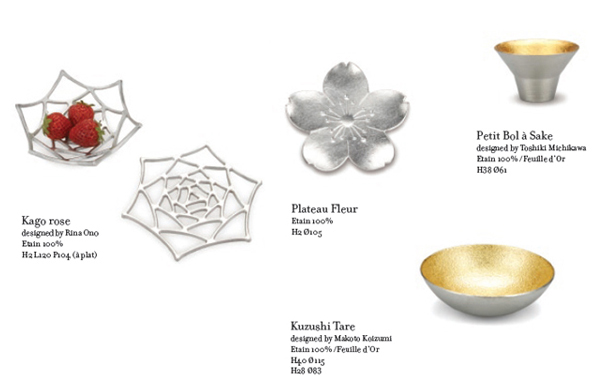 "Jugetsudo Paris"
As a genuine Japanese tea boutique in Paris, "Jugetsudo Paris" carry tea related dishes and utensils as well as original confections using Japanese tea, in addition to the selection of tea leaves.

Address: 95, rue de Seine, Paris 6e, France
Tel: +33 (0) 1 46 33 94 90 / Fax : +33(0)1 46 33 06 84
Opening Hours: 11h00 - 19h00
http://www.jugetsudo.fr/boutique.html