Casting Techniques at NOUSAKU
NOUSAKU uses a selection of materials and casting techniques including raw, self-hardening, lost wax, and original silicon casting method to establish a high-mix, low-volume production system. Working on the foundations of advanced techniques developed through history, we also employ new techniques such as NC processing. By achieving a balance between the machine and precision handwork of our craftsmen, we have been able to develop a flexible production system. All-inclusive production from planning to manufacturing ensures a stable supply of high-quality products.
*Green sand casting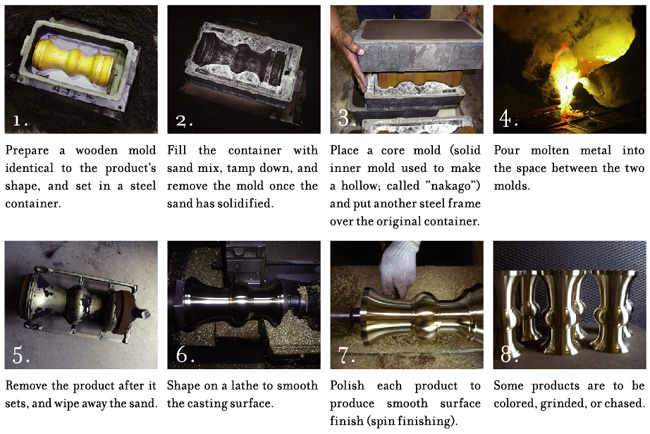 Green sand  casting is a technique for casting by pressing out the intended form using mold sand mixed with a small amount of water and clay. It enables a mold to be created quickly, making it cost effective and appropriate for mass production. While the two-piece mold limits the product shape into something that can be "sandwiched," the use of a middle mold can produce hollow products such as flower vases and Buddhist altar fittings. Unlike other casting methods, green sand casting does not fire or add chemical treatments to the mold before casting, which is why it is called "raw casting (生-型)" in Japanese.
NOUSAKU had been using this method since its beginning, and still, is our main method of casting. Our wind bells, flower vases, tin plates, and several sake wares are made by this method.
*Features of casting methods at NOUSAKU
-Green Sand  Casting: Typical and traditionalcasting method / Appropriate for making in large quantities
-Silicon Casting: Appropriate for expressing complex and precise details. Used only for casting tin products such as our flexible wares, chop stick rests, several sake cups and small plates.
-Self-hardening Casting: Mainly used for making large products. Generally used for casting furniture parts, chandeliers, luminaires, objets.
-Lost-wax Casting: Appropriate for expressing complex and precise details
Materials at NOUSAKU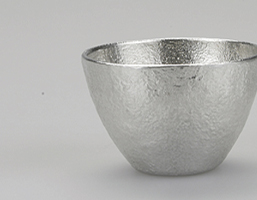 Known as the most expensive metal after gold and silver, tin is very malleable and flexible. Though having nearly the whiteness of silver, it does not rust easily nor will air tarnish it readily. It is significantly antibacterial, and also known as a material with high heat conductivity.
Its history dates back to around 1500 B.C. when the ancient Egyptian pharaohs were believed to have used tin tools. The Shoso-inTemple in Japan also contains treasures made of tin. It has been believed that water in a tin container does not spoil, and tin removes excessive bitterness from sake and produces better taste. Because it is known to absorb impurities and purify water, tin wares allow you to enjoy liquor, meals, sweets, or flowers. Tin plate cooled in a refrigerator for 2-3 minutes will keep the plate fresh and cold.
NOUSAKU uses pure tin. It is common to add other metallic materials to provide durability and facilitate cutting work, but NOUSAKU uses tin without such additives. Accumulated experience of skilled craftsmen enables us to produce these unique items. Though it depends on the shape and thickness, pure tin is soft and flexible which can be bent by hand (crackling sound called "Tin Cry" will be heard when bending). We are pleased to provide a unique chance for you to add creativity and idea to the design.

An alloy of copper and zinc, brass has been used from around 1000 B.C. Study shows that the Roman Empire used coin made of brass, while in Japan, one of the oldest records is known as items from China in the Nara Period. Nowadays brass is familiar to the Japanese by 5 yen coin, various accessories, interior decorations, and architectural hardwares. It has also been used in Buddhist altars, tea utensils, and instruments.
Products express a range of textures; from rough, cast surfaces to polished mirror finish or plated. Our wind bells offer the fineness of material and clear ringing sound. Each item being hand finished by our craftsmen, we ask you to enjoy these sophisticated traditionally-made items.

An alloy of copper and tin, blue copper is more commonly known as bronze. It is believed that bronze has a long history, dating back as far as 2000 B.C. in Mesopotamia. Bronze came to Japan around 300 B.C. in Kyushu, together with rice and iron. Used for mirrors and vessels as an anticorrosive material, bronze was also used to cast the Great Buddha in Nara and the Peace Statue in Nagasaki.
NOUSAKU uses these qualities to produce the Moss Bonsai series, as well as made-to-order construction metal and art sculptures.