Limited edition: Sake cup in summer blue colors
We are pleased to announce that the sake cup KIKI – II will be available in new summer colors at our retail and online shops in Japan.
Applied colored silver leaf, the special blue tones make a beautiful combination with the brightness of tin that makes us feel cooler and relaxed.
Because of the high heat conductivity of tin, we can enjoy the chilly drink with the cups as well.
Please don't miss your chance to get the limited-supply items and enjoy your summer time.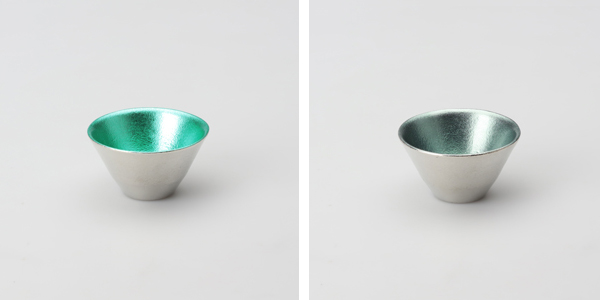 On sales: July 13th (Wed)
Left: KIKI – II – Natsugeshiki            JPY 4,536 (incl. tax)
Right: KIKI – II – Suzukaze                JPY 4,536 (incl. tax)
Only available at our retail shops and online shops in Japan.
This is a limited supply item. Kindly contact each shop for the availability.
All of us at NOUSAKU look forward to your visit.