NOUSAKU 100th Anniversary event at Hankyu Umeda Department Store
Celebrating the 100th anniversary, we have been carried out the "100 Sorori vases" project, featuring one of our best-selling flower vases, Sorori.
In this project, 100 craftsmen based in Takaoka applied their special finishing to each Sorori vases so as to embody their craftsmanship and brilliant technique.
Introducing the background of the 100 vases, we are now holding the 2nd special exhibition at Hankyu Umeda, following Fukuoka Mitsukoshi.
*We accept the order for each Sorori vase but please be noted that these are produced on order.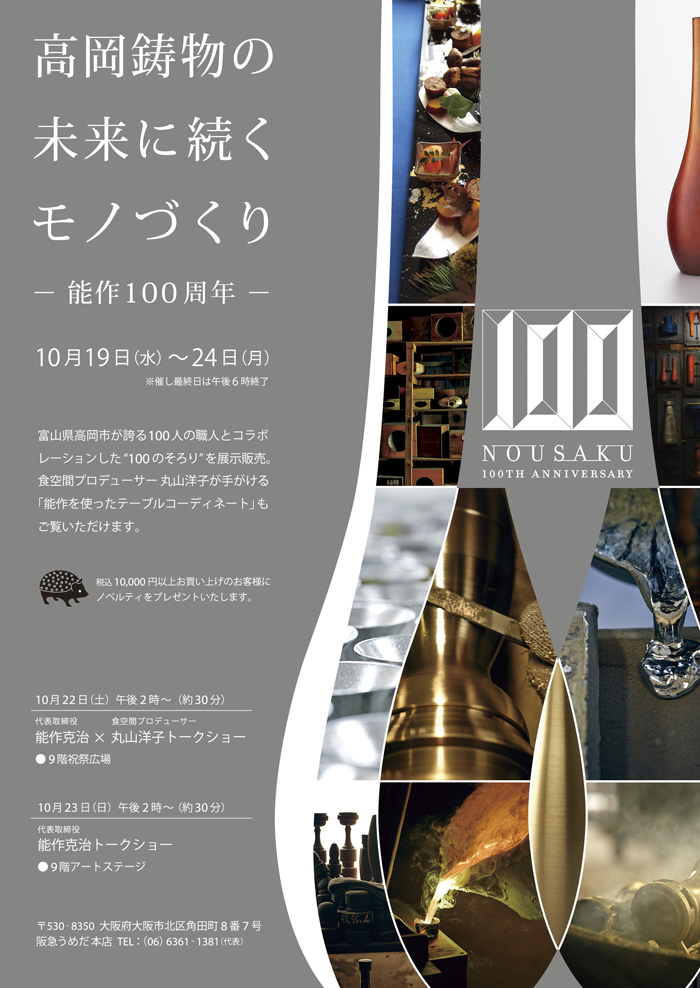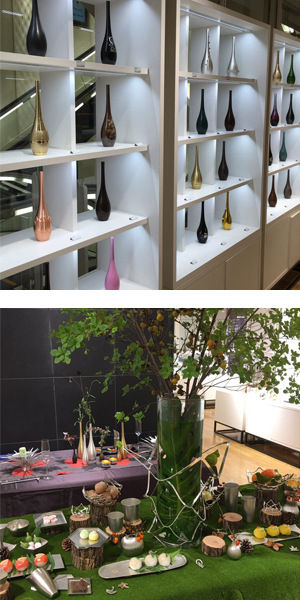 NOUSAKU 100th Anniversary – special exhibition
Period: Oct 19th (Wed) to 24th (Mon)
Vennue: Art stage on the 9th floor, Hankyu Umeda
During the period, we will introduce the elegant table setting using our items, arranged by Ms. Yoko Maruyama who is the specialist in table decoration.
Inviting her, our president Mr. Katsuji Nousaku will give a public talk as well. *Presented in Japanese
– Public talk of Mr. Katsuji Nousaku and Ms. Yoko Maruyama
Date: On Oct 22nd (Sat) PM 14:00 – 14:45
Vennue: Exhibition hall on the 9th floor
– Speech of Mr. Katsuji Nousaku
Date: On Oct 23rd (Sun) PM 14:00 – 14:30
Vennue: Art stage on the 9th floor
In addition, customers who purchase over JPY 10,000 at the shop will receive a special gift.
*The gift is presented only to the first 100 arrivals and limited to one per customer.
We will be preparing exclusive items such as sake cups and plates applied colored-silver leaf, and waiting for your visit during the special period.