NOUSAKU 100th Anniversary event at Fukuoka Mitsukoshi Department Store
We are pleased to announce our 100th anniversary this year.
Celebrating the anniversary, we will hold a special exhibition featuring Sorori – bestselling flower vase at NOUSAKU Fukuoka Mitsukoshi.
We are showcasing 100pcs of Sorori which embody craftsmanship and finishing technique in Takaoka.
Every piece is applied different finishing by 100 craftsman such as coloring, engraving and polishing, making full use of their experience and creativity.
After Fukuoka Mitsukoshi, we will hold the same exhibition at other NOUSAKU shops in Japan sequentially.
*We accept the order for each Sorori but please be noted that these are produced on order.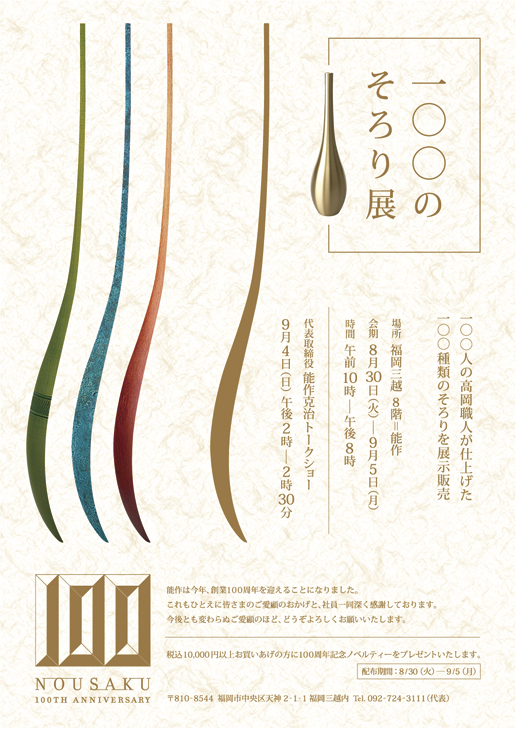 NOUSAKU 100th anniversary – Special Sorori exhibition
Period: Aug 30th (Tue) to Sep 5th (Mon)
Vennue: Exhibition hall at 8th floor, Fukuoka Mitsukoshi
TEL: 092-721-3111
Speech of our president Mr. Nousaku *Presented in Japanese
Date: On Sep 4th (Sun) PM2:00-
In the meantime, beautiful moon-inspired items will be exclusively on sale at this shop.
In addition, customers who purchase over JPY 10,800 at the shop will receive a special gift.
*The gift is presented only to the first 100 arrivals and limited to one per customer.
Please don't miss your chance to get the item!
We hope you visit Fukuoka Mitsukoshi shop during this special period.