Doraemon items are exclusively on sale at our retail shops in Japan
Fujiko F. Fujio, who is the author of Doraemon, a popular comic and anime series across the world, is from Takaoka-city which receives a high reputation as a center of metal industry.
Based in Takaoka, we NOUSAKU developed the following Doraemon items using casting techniques handed down over 400 years in this area. It was a huge honor for us to be able to promote our hometown with this collaboration between the traditional crafts and the legendary manga series.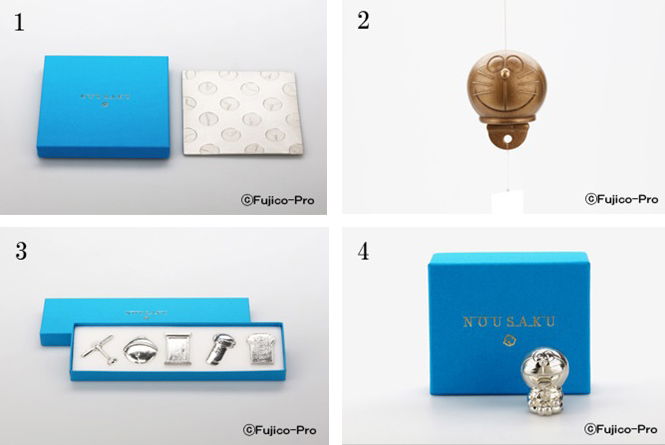 1. Small plate – Time Kerchief JPY 4,536
2. Wind bell – Doraemon JPY 7,560
3. Chopstick rest- Himitsu Dōgu (Secret gadgets) – set of 5 JPY 7,560
4. Paper weight -Doraemon JPY 4,104
On sales:
Aug 3rd (Wed): NOUSAKU at Marier Toyama, Toyama Daiwa, Nihombashi-mitsukoshi, and GALLERY NOUSAKU
Aug 10th (Wed): Hankyu Umeda
Aug 30th (Tue): Head office, NOUSAKU Fukuoka Mitsukoshi
Sep 14th (Wed): NOUSAKU at  Palace Hotel Tokyo, Matsuya Ginza, Hakata Hankyu and our online shop
All of us look forward to your visit.