Exhibition and Workshop held at NOUSAKU CUBE
An exhibition "History of Birudan-washi" is now open at NOUSAKU CUBE, the gallery space in our foundry/headquarter. The Birudan-washi (Japanese paper) has 400-year history in Birudan, Asahi-machi in Toyama and Mr. Kawahara is the only one craftsman who inherits the technique and tradition.
We hope you to enjoy the beautiful world of Birudan-washi.
Period: 10:00 – 18:00 from January 15 to February 28, 2018
Location: Nousaku foundry/headquarter (Office park 8-1, Takaoka city, Toyama)
Price: Admission free
In addition, a workshop to make a pinwheel with Birudan-washi is also open on the following dates. You can make and bring your original pinwheel with the washi and our brass part.
Date: January 20th (Sat), 21st (Sun), 27th (Sat) and 28th (Sun)
Time: 10:00 – 18:00 (at 00, 15, 30 and 45 minutes past every hour: last admission at 17:45)
Price: JPY 1,000 (incl. tax) – No reservation required
Contact: 0766-63-0001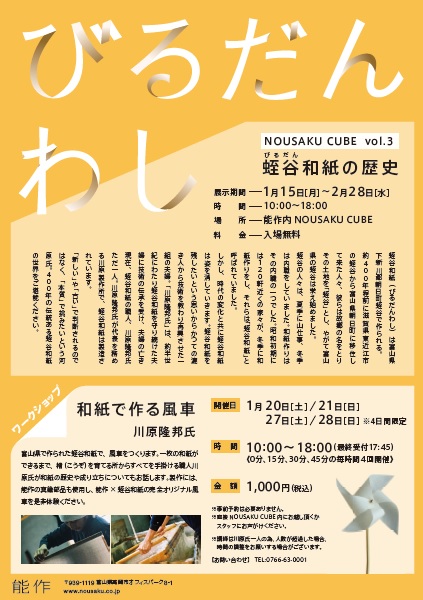 We are looking forward to your visit!