600033 Flower Pin Brooch – Poinsettia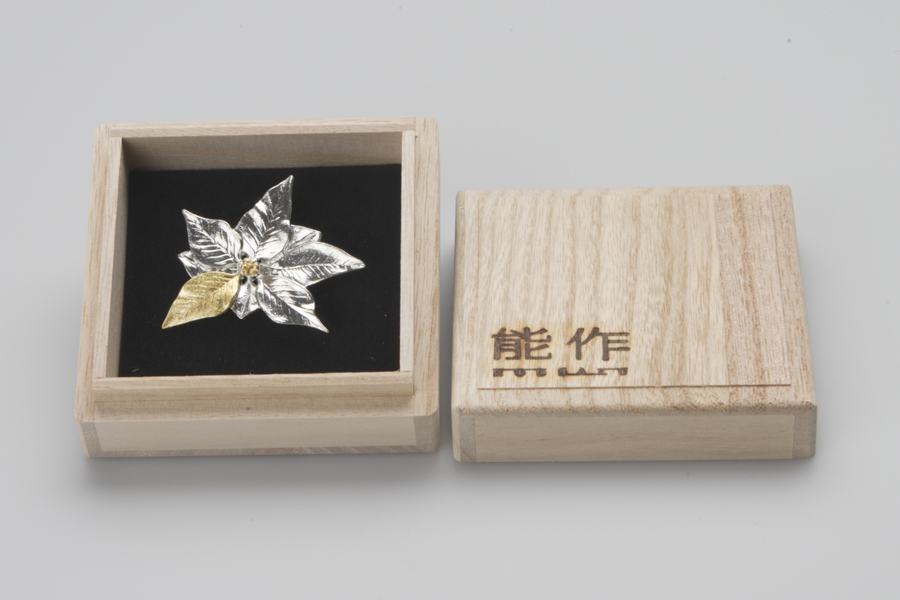 No.
600033
Name
Flower Pin Brooch
Size
W50mm
Color/Shape
Poinsettia
Box size
H42 W97 D97mm
Weight
(with box)
16g (102g)
Material
Tin (100%)
Introduction
This 100% pure tin accessory is made using a traditional casting technique which has been handed down for 400 years in Takaoka city, Toyama prefecture.
Pure tin does not oxidize easily and possesses high antibacterial property, it is a perfect material for accessories.
Although it is common to add other metallic materials to provide durability, NOUSAKU uses tin without such additives to utilize properties of the material fully.

The piece is also special for its finishing. The inner side of this item is gilded; a collaborative manufacturing between craftsmen of gold leaf at Kanazawa, Ishikawa prefecture. In 5 designs: Narcissus: W40 /Japanese plum: W43 /Poinsettia: W50 /Cosmos: W38 /Sunflower: W40 Also preferred as gift (supplied in a box of paulownia wood).