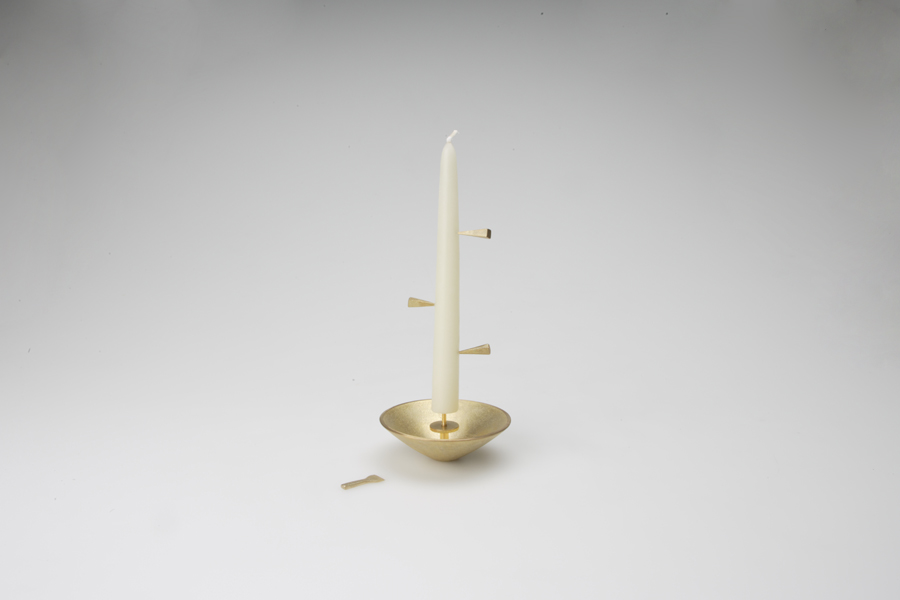 No.
506100
Name
Time Bell Candle
Size
H170 φ103mm
Box size
H58 W170 D222mm
Weight
(with box)
270g (588g)
Material
Brass (60% copper, 40% zinc)
Introduction
This product is manufactured using traditional casting techniques which has been passed down through generations for over 400 years in Takaoka, Toyama Prefecture. It is a set of 2 beeswax candles, 3 pins and a paddle to remove wax after use. Left as it is much closer to as if it has just been taken out of the mold, you will find the bell sound and the light of candle so comfortable as time pass by. Offering the fineness of material and sound, this set is likely to be chosen around Christmas season.

[Directions for use]
-Do not rub with a metal polisher.
-Although the object receives a color fixing finish, the color may slightly fade over time.

[Maintenance]
-Wipe with a soft cloth or a sponge after use.
-Treat with diluted dishwashing detergent and lightly rub with a damp sponge/ cloth if needed. Then wipe with a dry cloth.

[Care & precautions]
- Failure to follow these directions could result in unexpected fire hazard or personal injury.
- Place candles on solid, stable and heat resistant surfaces in areas where they cannot accidentally be knocked over.
- Use only in well ventilated low heat condition.
- Candles should not be used where there are drafts or air currents ( A/C, ceiling fans, windows.)
- Do not move candles while burning or if wax is hot.
- Keep out of reach of children and pets.
- Never leave a burning candle unattended.
- Do not use candles while you sleep.